When you go camping you are going to get tired at some point because of all the walking and the best way to relax is to sit down and chill out. This is what camping is all about, right?
What a better place to sit down than a swinging chair that will help you relax even more. Well in this article we have made a list of the best swinging camping chairs that you can find.
The Best Quality Swinging Camping Chairs will:
Be constructed of a durable material that is both weather and U.V. resistant;
Feature a durable aluminum or steel folding frame;
Have solid back support fabric that will not tear;
Include double-stitched fabric on pressure points to prevent tearing;
Keep in mind that even though you are swinging there is no overhead support, you can place swinging camping chairs down anywhere you desire. Some folks even place them inside the tent when the bugs are bad or the weather is nasty.
No more wasting time finding the best tree to hang your chair from. Hammock style swinging camping chairs offer the ultimate in comfort, versatility and ease of use.
There are a lot of good buying options as you will see down below, but it's important you pick the right choice for your camping needs. Don't pick the most popular one just because it's popular, instead look at the specifications carefully and make the correct decision.
Here are our Best picks for The Best Swinging Camping Chairs :
1. Rio Gear Outdoor Foldable Hammock Lounger
Buy on Amazon
This Rio Gear Outdoor Foldable Hammock Lounger is one of the best and most popular chairs in this category. It has a really well-made design that will make you feel like you are sitting comfortably in the comfort of your own home. This chair is fairly large but the padding structure that surrounds the entire inside of it will make it worth carrying around. It also has a high backrest and great headrest so you will always be comfortable whatever your sitting style might be.
This product comes with a few great features and one of my favorites is the padded armrests. It has a weight of only 11pounds and can support a weight of up to 300 pounds but I wouldn't suggest going over it. You also have a carrying bag included and it has a great price to performance ratio so you will not be disappointed by this chair.
2. NEMO Stargaze Recliner Luxury Chair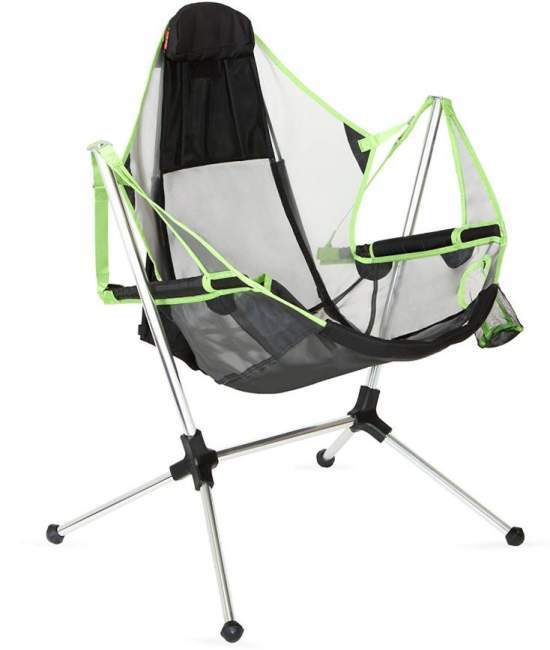 Buy on Amazon
The Nemo Stargaze Recliner Luxury Chair is a legendary chair and one of the first ones in this specific area. At the time this was considered a new revolution and the market was totally blown away by it, that's why it's still highly recommended by Amazon. However, this is a later version and a more luxurious one of course, as it's in the name of it.
There are a lot of amazing features that this chair has and all of them combined will make you feel really great when sitting. This swing chair has an auto-reclining mechanism that is one of the best features this chair can have. You can adjust the sitting angle simply by leaning back and shifting your body weight. This is essential so that you can achieve the highest maximum of comfort.
With this product, you will get an adjustable headrest, solid armrests and it also comes with a carry bag. It's a lightweight design at 6 pounds but is able to carry up to 300 pounds. It's a bit more expensive than the last option but the high quality of products and features that it has make it totally worth it.
3. Sportneer Camping Backpacking Chair Portable Lightweight Folding Camp Chairs
Buy on Amazon
With Sportneer Camping Backpacking Chair Portable Lightweight Folding Camp Chair you get a unique feeling because of its interesting design. It's one of the cheapest options on this list but it's definitively not the least by any measure of it. It has a frame made of heavy-duty aluminum which ensures stability and durability. It only weighs around 2 pounds and this is with the carry-on bag included.
It's a great option when you don't want to do heavy packing when camping and it will also give you immense relaxation. Even though it's extremely lightweight it can carry weight up to 350 pounds so don't overlook it. The one issue I have with this chair is that it's a low-height chair so that means that people with back problems are going to have a real issue with this one. So think carefully about it before making your choice.
4. Alpha Camp Hammock Camping Chair Folding Swing Chair with Cup Drink Holder
Buy on Amazon
This product is really interesting and has a lot of features that might swing your mind to picking this instead of the other options that we have listed here. This style of camp chair is designed to offer a hammock style sitting at the comfort of a usual chair with no set up before. It has a sturdy iron structure and unique lifting technology that will allow you to swing on a chair without being strapped to a tree.
The main feature that grabs your attention is the cup holder which can serve even as a phone holder or whatever small item you might need to hold. It has a padded headrest to increase comfort and also high-quality materials. All these things will make you appreciate that you made this choice and you will enjoy your relaxing time. It's the chair that can hold the most weight out of all the options on this list and has an amazing 500 pounds capacity.
5.  GCI Outdoor Freestyle Rocker
Buy on Amazon
The GCI Outdoor Freestyle Rocker is one of the more interesting and unique options on this list since it has two pistons that will help with swinging. It has a catchy design because of it and it's a really great option. It's effortless to fold and, it will not take much space, so it's easily portable.
The patented spring-action rocking technology delivers smooth rocking motion anywhere outdoors so you don't have to worry about the location. It has a solid frame that can hold up to 250 pounds of weight. However, it's not the lightest item on the list and it's at 13 pounds so think carefully about it.
Swinging Hammock And Tree Chairs For Camping
When you look for chairs for camping, you will find two types of swinging chairs available in the market: the hammock chair and the tree chair.
The main difference between a tree chair and a hammock chair is the fact that the former needs you to tie it to a tree while the latter does not need any special attachments. As compared with a chair that requires you to tie it, swinging chairs for camping come in a wide variety of materials like rope, fabric or anything else.
However, you need to take into consideration the comfort of the chair before you decide which one to purchase. If you spend a lot of time in your tent, you will surely appreciate the additional comfort that the chair will provide you.
Tree chairs are comfortable because you will lie on the cushion of the chair with your back facing the cushion. It means that you will be able to sleep as you lie on the chair. If you are looking forward to having a romantic night with your loved one, then this type of chair will be perfect for you. On the other hand, if you are looking forward to spending a few relaxing moments in your tent, then it is best for you to purchase hammock chairs.
It's important to consider where your campsite will be because if it's in an area where there are no trees it's going to be a touch difficult to hand a swinging tree chair!
This is one reason many campers decide to go with the hammock-style chairs vs tree chairs. The hammock style is more versatile in the sense that it is simply unfolded and used anywhere without having to worry about trees nearby.
Hammock style swinging chairs are available in different sizes and designs. They can be placed right next to your campsite to provide you with a comfortable resting position when you sit on your hammock.
As compared to the tree chair, the hammock will also provide you with the option of placing your feet in the stirrups at the bottom of the hammock. This gives you the opportunity to swing away and having a relaxed feeling even if you are sleeping in the hammock. You can also purchase a folding hammock for easy storage and portability.
If you choose to buy a hammock chair, then you will have a large variety to choose from. There are different types of hammock-swinging chairs for camping and you can choose one depending on your taste.
Some of these chairs come in a plain color and others come in more exciting colors. In addition, you can also get your chairs in different sizes. If you are short and tall, you can easily find a chair that will suit your body type.
Some of the XL sized hammock chairs are even suited for XL folks who might have packed on a few pounds during the COVID-19 quarantine. I feel your pain!
Closing Thoughts
In this list of the best swinging chairs for camping, there are a lot of great options for you to choose from. They are all foldable so that's really cool because they pack nicely. There is a big difference in the height of these options so if you are a taller person you might have some problems with some of these choices so I suggest you read the full item specifications before committing to purchase one.
They are all really simple to use since they don't need to set up before using them and that makes it great when camping. The main difference is going to be in price and some other specific feature that one chair might have over the other. We have tried to include chairs for all consumer budgets so they are not left out.